We are excited to announce a Wednesday Morning Ladies Indoor Soccer competition.
Ideal for mum's with bubs 0- 5 yrs free creche.
Games are played from 10.00am through to 12.00md and consist of 2 X 14 minute halves.
Teams are permitted 3 reserves. Reserves can be substituted on and off at any time during the game.
Get your friends, workmates, players from your outdoor team or your mum's group and enter a team now. It's a great way to keep fit and an opportunity to make some new friends
Game Fees & Registration
Registration FREE for the first 10 teams. Game fees $50 per team, per game. FREE Creche.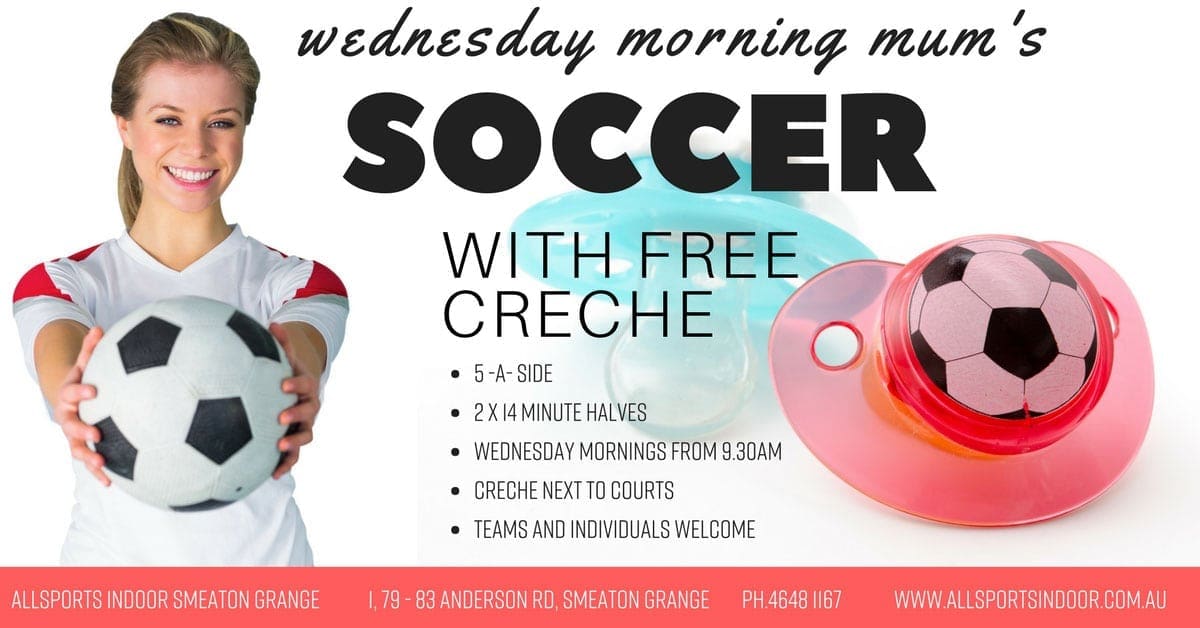 NEW SPRING / SUMMER OPEN AGE INDOOR SOCCER COMPETITIONS COMMENCING EARLY OCTOBER, 2017. MONDAY, TUESDAY, WEDNESDAY & THURSDAY EVENINGS. NOMINATE NOW TO SECURE YOUR TEAM'S POSITION.
POSITIONS STILL AVAILABLE FOR TEAMS IN U9/10's TUESDAY & U11/12's WEDNESDAY AFTERNOON SOCCER COMPETITIONS. GET IN QUICK TO ENSURE A START AFTER THE SCHOOL HOLIDAYS.